The Rare Books and Special Collections of Falk Library of the Health Sciences originated with the union of materials from the former libraries of the Schools of Medicine, Dental Medicine, Nursing, and Pharmacy with the collections in Falk Library.
Since their inception, these collections have been enriched with the deposit of rare books and other historical collections from the former Western Psychiatric Institute and Clinic Library and major book donations from Dr. Gerald P. Rodnan (focusing on rheumatism and gout) and Dr. Mark M. Ravitch (relating to surgery, especially hernia). Also included is a growing collection of unique and archival materials relating to people involved with the health sciences at the University of Pittsburgh and the University of Pittsburgh Medical Center (UPMC).
The Collections:
Hours:
Access to the materials is by appointment only. Please email techserv@pitt.edu or call 412-383-9773 at least 24 hours in advance. You may also ask at the Main Desk (412-648-8866).
For assistance:
Related site: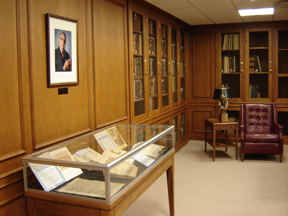 Rare Books Reading Room